Front Crash-Avoidance Technology for Large Trucks
POSTED ON January 21, 2021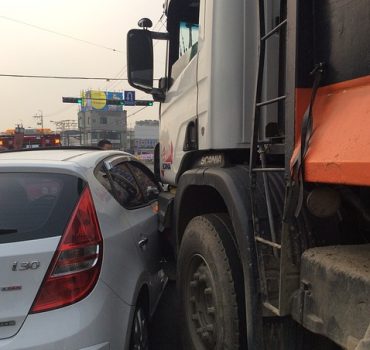 Front crash-avoidance technology has been shown to be beneficial for large trucks, according to one study from the Insurance Institute for Highway Safety (IIHS). Specifically, the IIHS study found that large trucks fitted with forward collision warning and automatic emergency brakes (AEBs) may prevent two or more out of every five rear-end collisions.
Why Large Trucks Experience More Front-End Crashes
Large trucks often experience front-end crashes because of the passenger-side blind spot that prevents drivers from seeing cars on that side of the vehicle. Truck drivers aren't as close to the road as other drivers and aren't as able to view the road below the hood of the truck.
The reduced visibility, combined with the weight of large trucks that makes them difficult to stop, increases the risk of front-end collisions. The weight of large trucks also often results in more damage when they collide with another vehicle's rear.
Front-Crash Avoidance Technology Reduces Crash Risk
The IIHS study entailed reviewing data collected from 62 tractor-trailer and other large truck carriers. The minimum weight of vehicles included in the study was 33,000 lbs.
IIHS's director of statistical services looked at the data and found that the vehicles involved experienced 22% fewer trucking accidents when equipped with forward collision warning systems. Meanwhile, trucks with AEB systems saw 12% fewer front-end crashes. Forward collision warning systems also reduced rear-end collisions by 44% while AEBs reduced them by 41%.
How Front Crash-Avoidance Technology Reduces Accidents
Front-end crash prevention technology helps prevent accidents in a number of ways.
These systems can use forward-collision warnings that alert truckers to any obstacles in their blind spot, while AEBs automatically apply brakes when needed if a vehicle is nearby. At this time, neither technology is required to be installed in any vehicles in the U.S., but automotive manufacturers are taking steps to make them standard features in their vehicles. These systems may also become mandatory in the future as the IIHS study and others continue to prove their effectiveness.
In some vehicles, headlights may also switch on to low beams automatically as a vehicle approaches in the oncoming lane.
With front-end collision prevention systems in place, trucks and other vehicles can remain consistently safe on the road. Subsequently, serious injuries and deaths resulting from auto accidents can be significantly reduced with these technologies.