What to Do After a Car Accident
POSTED ON December 10, 2021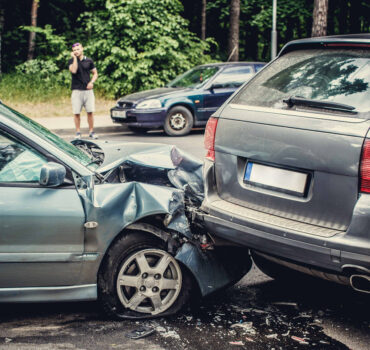 Car accidents, whether they're minor fender-benders or multiple-car pileups with injured passengers, require specific actions to be taken to ensure victims are properly cared for. Not panicking and keeping calm isn't easy, but there are crucial steps immediately in the aftermath of the crash that ensure victims have a chance at a successful claim. Working with a car accident lawyer ensures victims have an experienced guide when filing their claim.
Steps to Take After a Crash
In the immediate moments after an accident, victims should check themselves and their passengers for injuries, as well as occupants of other vehicles involved. If injuries occurred, emergency services should be contacted immediately to provide medical care. Nevada law requires a motorist involved in a motor vehicle accident to notify the police or the Nevada Highway Patrol (NHP) if anyone is killed or injured. For accidents not involving fatalities or injuries, police should still be contacted to file an accident report. Someone who willfully fails to report an accident, as legally required, may have his or her driver's license suspended for one year.
Documenting the Scene
Once emergency services are contacted, victims should move any vehicles creating additional hazards out of the way, if possible. Additionally, victims can benefit from documenting the scene via photographs, eyewitness reports, and taking notes regarding other details about the crash. Individuals should collect the insurance information of the involved parties, as well as the police report identification number.
Reporting to Insurance Companies
Those involved in a crash should report the accident to their insurance provider as soon as possible. Details to report include the other drivers' information, police report identification number, and some details about the crash. Reporting as soon as possible helps to ensure that evidence is preserved and increases a claimant's chances of a positive outcome. Accident victims should avoid communicating with the other party's insurance company and instead should retain a car accident lawyer to act on their behalf.
Retaining an Accident Attorney
Victims should take the time to make sure that any offer of settlement covers all the damages that have occurred or may occur in the future. This includes medical bills, long-term care costs, lost wages, vehicle repair or replacement costs, and, in particularly egregious cases, punitive damages. An experienced accident attorney can help victims get compensated for all injuries and damages suffered.