Questions to Ask a Lawyer After a Car Accident in Houston
POSTED ON September 30, 2022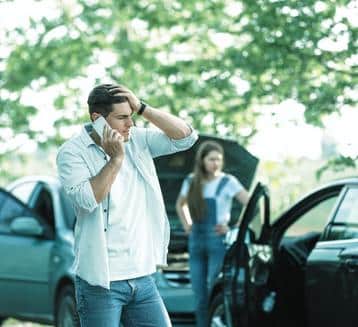 Knowing what questions to ask a lawyer after a car accident in Houston may help you protect your rights. Car accidents are the cause of most personal injury claims in the United States. A car accident lawyer can help you understand your legal options, give you advice, and if necessary, argue your case at trial.
What to Do After a Car Accident in Houston
The first question you might have after a car accident is what should I do first? Seek medical attention. This important for your safety and ensures prompt treatment of your injuries. Some car accident injuries do not become apparent until weeks or months after an accident. Additionally, your medical records may be critical to your claim later down the road. It is important that you attend medical appointments and let a medical professional help you to diagnose and treat any injuries.
Questions to Ask Your Car Accident Lawyer
Communication with your attorney is key when you file a claim or lawsuit for accident injuries.
Your lawyer will likely have numerous questions for you during your initial consultation. He or she may ask whether your injury affected your ability to work or perform daily tasks. Your car accident lawyer will want to know your version of how the accident happened. What were the conditions at the time?
Just as your lawyer is preparing to do his or her part in your case, you should do yours. Some questions to ask a lawyer after a car accident in Houston include:
Should I file a personal injury claim or lawsuit?
What information do I need to provide?
What damages can I recover if I sue for my car accident injuries in Houston?
How much does a car accident attorney cost?
How long will my Houston car accident case take?
What are things I should not do after getting injured in a car accident?
Discussing these and other concerns with your Houston car accident lawyer may help you get to know him or her better. Thorough communication can also aid your attorney in developing an approach suited to your unique circumstances, needs, and legal goals.
Should You Pursue a Claim and What Do You Need to Do?
First, you will want to find out whether you have a valid car accident claim. A Houston car accident attorney will look at the facts of your case and let you know if it has any merit. To help your lawyer make this determination, you may find it helpful to ask what information you need to provide. You will most likely need to provide several types of documentation such as police reports, photos or video of the accident scene, medical records, and contact information for any witnesses to the accident.
A car accident attorney will use this information to determine whether you have a case, and what damages you may be able to recover if you sue. Common damages in Houston car accident cases include compensation for medical bills, lost wages, and pain and suffering.
How much does a car accident attorney cost?
Fee structures vary between attorneys, so you will want to ask questions about the cost. Many car accident attorneys in Houston work on a contingency fee basis. In such a billing structure, you will not have to pay any up front attorney fees. Instead, your attorney's fees will be deducted from the final jury award or settlement.
What happens if you lose a car accident lawsuit? Under a contingency fee basis, you will only have to pay attorney fees if you receive a favorable outcome. Some other possible fee structures might require an upfront retainer, the car accident lawyer may charge an hourly rate, or the attorney could charge a flat fee.
How long will your Houston car accident claim take?
Car accident claims in Houston can take anywhere from a couple of months to a few years to resolve. How long your case will take can vary greatly, depending on the evidence in the case and the insurance company's willingness to pay for your losses. It is difficult to predict exactly how long your car accident claim may take. There may be unexpected delays and developments. Your car accident lawyer can, however, provide you with a general timeline for your case.
Many car accident cases settle prior to trial. Litigation may be necessary if negotiation attempts fail, however. If your case does go to trial, it may take months, or even years, for the case to be heard and the jury to reach a verdict.
What should you not do after a car accident?
You will likely have many questions for your car accident lawyer about what you need to do, but it is also a good idea to ask about things that you should not do following a car accident.
Your car accident attorney may advise you to stay off social media. Insurance companies may look at social media profiles for evidence of fault or lack of injury. It is best to avoid posting anything about your car accident on social media.
After getting injured in a car accident, it is important that you avoid admitting fault. You may feel like you should apologize or take some of the fault for the crash. Do not make apologies or say anything that implies you are responsible, however. A statement you make suggesting you are at fault may be used against you and could affect compensation you are entitled to receive.
It is also best not to give any type of statement to the other driver's insurance company, or accept a settlement offer, until you have discussed the case with your attorney.
Finally, do not withhold information from your car accident lawyer. Giving your legal team all the information puts them in the best position to help you with your case.
What to Look for When Hiring a Car Accident Lawyer in Houston
There are several factors to take into consideration when hiring a car accident lawyer. Some of the most common of these include:
Experience
Communication
Reputation
Courtroom Experience
Fees
You will want to choose a car accident attorney with extensive experience in handling car accident claims like yours in Houston. An attorney that has handled similar cases will be in the best position to determine who is at fault, decide what evidence you need, and negotiate with the insurance companies.
Choose someone who has a track record for getting favorable outcomes in car accident cases like yours. Your lawyer probably won't be able to give you details about his or her previous cases. However, your attorney can provide you with the number of cases he or she has handled, and the outcome of those cases.
One of the most important qualities of a good car accident attorney is effective communication. You should aim to hire an attorney that is responsive to your calls and emails. You may want to ask how often the attorney will be in communication with you and what his or her availability is. This can prevent a great deal of frustration down the road. You will also want an attorney that can clearly communicate to you what the legal process will look like and help you to understand the process through every step along the way.
Choosing a car accident lawyer with a good reputation shows that they have a history of successfully and honestly representing clients with claims similar to yours. You may find it helpful to get referrals from family or friends and read online reviews to find a car accident attorney with a positive reputation.
While most car accident claims settle before going to trial, it is important to be prepared for litigation should the need arise. Look for an attorney that will be confident in the courtroom in the event that the case does go to trial.
If you are making a car accident claim, it is important to consider all lawyer fees when hiring a car accident attorney. Make sure you fully understand how fees are calculated, what you are expected to pay, and when you will need to pay it.
Finally, you will want to hire a car accident attorney that is caring and compassionate. Car accidents claims can be stressful, and the legal process can, at times, become an emotional roller coaster.
When dealing with the aftermath of a car accident, you may also want to ask questions about the benefits of hiring an attorney or how a car accident lawyer can help you with your claim.
A car accident claim can be a lengthy process, and you will want to work with someone that you like and trust. The questions to ask a lawyer after a car accident in Houston may aid you in choosing the legal representative best suited for your personality, situation, and needs.