What Happens if You Lose a Car Accident Lawsuit?
POSTED ON May 23, 2022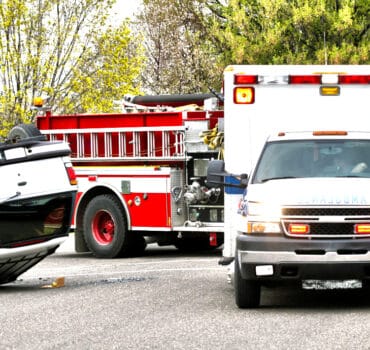 What happens if you lose a car accident lawsuit in Nevada? If you lose a car accident lawsuit, you have the option to appeal the case. You will not receive any compensation if you lose a car accident lawsuit. You also lose the right and ability to pursue compensation for the same accident in the future. Losing an accident lawsuit sometimes comes with potential financial risks. You might, for instance, be responsible for the case costs incurred by the opposing side. You might also be responsible for other expenses and costs of preparing and prosecuting your case. The good thing is that you may not have to pay attorney's fees.
Have a car accident lawyer on your side to increase your odds of winning a car accident case. Your lawyer will guide you through the process. He or she answers your questions, assembles the required evidence, and negotiates to maximize the final settlement with the insurer. The lawyer helps ensure that you understand what happens if you lose a car accident lawsuit.
Can You Appeal a Personal Injury Verdict in Nevada?
It depends. If you lost your personal injury case, you may have the right to appeal the judgment in Nevada. You (or your lawyer) must, however, show that the court or jury made a mistake that affected the trial outcome.
You might, for instance, state that jury members failed to follow the jury instructions. Another valid reason for appeal might be that the jury couldn't review certain evidence that could have impacted the trial outcome.
Make sure that you understand how to appeal your personal injury verdict in Nevada to avoid common mistakes that plaintiffs make. Nevada offers you two options for appealing an injury verdict.
You can immediately file the appeal with the appropriate appellate court. Another option is for you to file a motion for a new trial. A motion for a new trial asks the court to reconsider the decision by the judge or jury. Nevada's Rules of Civil Procedure explain the reasons for requesting a new trial, which includes things like newly discovered evidence or misconduct at trial. If the court denies your motion, you then have the option to file an appeal.
An injury verdict appeal can lead to different outcomes. The court may uphold the initial judgment. The court may allow the appeal and send your case back to the lower court for reassessment. The court may adjust only the damages awarded in the verdict.
Short filing deadlines may apply to your case, so it's important to act fast and talk to an experienced personal injury attorney. If you miss the deadline, you may not be able to file an appeal.
Your Chances of Winning a Car Accident Case
There's no guarantee that you will win your car accident case, but here are some steps that you can take to help increase your chances of winning. These steps include:
Take Appropriate After-Accident Steps
Knowing what to do after a car accident allows you to protect your claim for damages. The first action is to pull your vehicle over to a safe place. Get yourself and others involved in the crash to a safe location if you cannot move the vehicle. If you or anyone else is injured, call an ambulance. Call the police and remain at the scene until the responding officers arrive and complete their process.
Gather any evidence at the accident scene, including images of the scene, ambulance records, and the other driver's insurance, license, and contact information. Additionally, ask for a copy of the police accident report from the responding officer.
When the details are fresh in your mind, write down the events leading to the crash. Likewise, record the contact information and statements of potential witnesses. Do not discuss details of the accident with the other driver or his or her insurer. Familiarize yourself with things not to say after a car accident to avoid disclosing information that might compromise your case.
See a doctor for prompt medical assistance, even if you think you are okay. A thorough medical exam can identify unobvious accident-related injuries like internal bleeding, concussions, and whiplash. Medical records and doctor's notes can prove that you sustained valid injuries.
Get Legal Support Immediately
The sooner you involve an accident lawyer and start the claims process, the higher your chance of recovering damages. A skilled lawyer conversant with your state's car accident statutes can analyze the details and circumstances of your accident to determine whether you have a legitimate injury case. The lawyer can also collect consistent evidence to support your case.
Work in Close Collaboration with Your Lawyer
Your accident lawyer prioritizes your best interests. So, consider your lawyer's advice before making decisions that may potentially impact your case. You also need to follow your lawyer's instructions strictly. More importantly, share all the information about your case with your lawyer without concealing anything.
Calculate the Full Value of Your Case
Different types of damages may stem from your accident-related injury. Ensure that you know all the injuries, expenses, and losses you have suffered. Work with your lawyer to review all damages that might be available in your case. You can, for instance, pursue damages for emotional suffering and loss of quality of life.
Let Your Lawyer Handle All Communications With Insurance Adjusters
The primary goal of all insurance adjusters is to ensure insurance companies save money. An insurance adjuster may trick you into saying or doing something that might sabotage your case. It is best to leave all communications and interactions with insurance companies and their adjusters to your lawyer.
What Happens if You Lose Your Car Accident Case?
If you were injured in a car accident, you might want to know in advance why your case may go to court. You might also want to know what happens if you lose a car accident lawsuit. 
Only a small percentage of car accident cases reach the trial stage. Your case may go to court if it is hard to determine liability, the insurer is unwilling to offer a reasonable settlement amount, the witness statements are contradicting, or other reasons.
Losing a car accident lawsuit usually marks the end of the lawsuit. You typically don't get any financial compensation for medical costs, lost wages, and other damages arising from the accident. You are left to cover these expenses yourself. But you may have the option of using health insurance for injuries caused in a car accident.
The court may require you to cover case expenses incurred by the opposing party. This is especially true if the other party seeks to recover these costs.
Do You Have to Pay Attorney Fees if You Lose Your Case?
Generally, you may not have to pay attorney's fees if you lose an injury case. Car accident lawyers in many states, including Nevada, charge legal fees on a contingency basis. This arrangement allows lawyers to take only a specific portion of the settlement they recover for their clients. They don't collect any attorney's fees if they don't win their client's case or their clients don't receive compensation.
During the case, your lawyer will carefully analyze the final settlement offer against your current and future damages. The lawyer may advise you to sign the offer letter if the settlement amount is reasonable. The lawyer may also advise you to take the offer if proceeding to trial may hurt your chances of obtaining fair compensation.
You might have to cover the additional expenses incurred by your lawyer in handling your personal injury case. These expenses include:
Court costs
Administrative costs
Deposition fees
Expert witness fees
Investigation and evidence compiling expenses
These additional expenses may fall between a few hundred and several thousand dollars. Make sure that you look at the agreement you are entering with your lawyer to determine the potential expenses that might arise from your case.